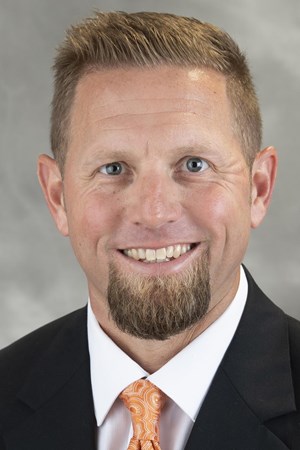 Justin Haire was named the 10th Head Coach of Campbell Baseball (senior college era) on June 6, 2014. He is in his fourth season at the helm of the program after spending seven seasons as recruiting coordinator, assistant coach and eventually associate head coach under former skipper Greg Goff.Haire's first team wasted no time breaking into the record books in 2015. The Fighting Camels set the mark for the best start in program history by winning 17 or their first 19 contests, en route to establishing Haire as the winningest first year head coach in program history by posting 32 victories. Those 32 wins are tied for the fifth most victories in a season in the program's 53-year history. 2015 marked the Camels' fourth straight season of 30 or more wins, the first time that has ever happened in the history of the program, and Campbell ranks 17th (out of 299) in the country in total wins over that time. And for the fourth straight year, the Camels made an appearance in the top-30 of at least one national poll, another first for the program.
In Haire's first season at the helm, Campbell led the Big South in ERA (3.48) for the second time in three seasons, and ranked second in team batting average (.297). CU also boasted 32 home runs, the most by a Campbell team since 2010, and led the league in stolen bases for the fourth consecutive season.
Five Camels earned All-Big South honors, with Cole Hallum earning Big South Player of the Year, and went on to garner Third Team Louisville Slugger All-American honors. Matt Parrish earned his second-consecutive Academic All-America accolade, also collecting Second Team All-Big South merits at designated hitter.
The record-setting continued that June, as three Camels were selected in the 2015 MLB Draft, the most in a single year in program history. Cedric Mullins (13th round, Baltimore Orioles), Steven Leonard (23rd round, Colorado Rockies) and Heath Bowers (24th round, Oakland Athletics), were all drafted after having never been drafted previously in their career, continuing a trend of development that Haire and his staff have demonstrated since arriving in Buies Creek.
In 2016, three more Camels earned All-Big South honors, including senior Matt Parrish, who took First Team accolades, along with his third Academic All-America nod. Parrish was also named the recipient of the prestigious Senior CLASS Award, given to the nation's top senior with notable achievements in four areas of excellence: community, classroom, character and competition.
Last season, 2017, Haire led the Camels to 25 victories and four players picked up all-conference honors. Drew Butler headlined the group as the league's Scholar-Athlete of the Year and was a second team selection. Hallum nabbed his second first team selection while Matthew Barefoot and Jeff Hahs joined Butler on the second team.
Butler finished the season as the co-national leader for stolen bases with 39 swipes. He became the sixth Camel to earn a NCAA statistical championship, which have all been under the tutelage of Haire.
Haire, and the coaching staff's, recruiting and coaching efforts helped guide Campbell to 41 or more wins each season from 2012-14, totaling 131 victories over that span. CU originally set the school record for wins in 2012 with 41, only to eclipse that mark again in 2013 with 49 victories. 2013 culminated in the Big South's Regular Season Championship, the first in program history.
Under Haire's guidance, a Camel has been named Academic All-American in five of the past six seasons, including designated hitter Matt Parrish in 2014, 2015 and 2016 to become Campbell's first ever three-time Academic All-America. Josh Holskey and David Olson also picked up Academic All-American honors in 2012 and 2013, respectively.
Matt Marksberry made his Major League debut with the Atlanta Braves in 2015, becoming the eighth player in CU history to make it to the big leagues. Jake Smith was named 2015 Minor League Relief Pitcher of the Year, and was added to the Giants 40-man roster, joining Marksberry in the show in 2016 with the San Diego Padres. Additionally, Cedric Mullins was named the Top Defender in the Orioles 2015 Draft Class and is currently the O's fifth-best prospect according to MLB Pipeline.
As an assistant coach, Haire has helped guide five teams that set school records for wins (Sterling College 2004: 37, Ouachita Baptist University 2006: 31, OBU 2007: 50, Campbell 2012: 41, CU 2013: 49).
Prior to his years at OBU, Haire spent one year as the pitching coach at Sterling College. In 2004 the Warriors boasted a 37-18 record, and won both the KCAC ERA title (3.01) and KCAC tournament championship, and had two All-American pitchers.
Haire graduated from Henderson State University (Ark.) with a B.A. in history. He married Lindsey Dawson of Benton, Ark. in 2010. The couple has two sons, Jackson and Parker.